The CCN Daily Worship by Pastor Don. Roy Hemingway.
Gooooooooooooooooooooood morning brethren, May the Almighty God of hosts be with you this morning and thank you, for joining us here at 'The Church of the Christian Nation' for worship and praise. Let us begin as is our tradition every day here at the Nation, by reading from the word of God. Amen.
Bible Reading.
Romans 3. 
21st Century King James Version (KJ21)
1 What advantage then hath the Jew? Or what profit is there in circumcision?
2 Much in every way; chiefly because unto them were committed the oracles of God.
3 For what if some did not believe? Shall their unbelief make the faithfulness of God without effect?
4 God forbid! Yea, let God be true, but every man a liar. As it is written: "That Thou mightest be justified in Thy sayings, and mightest overcome when Thou art judged."
5 But if our unrighteousness commend the righteousness of God, what shall we say? Is God unrighteous who taketh vengeance? (I speak as a man.)
6 God forbid! For then how shall God judge the world?
7 For if the truth of God through my lie hath abounded more unto His glory, why am I also yet judged as a sinner?
8 And why not say rather (as we are slanderously reported, and as some affirm that we say), "Let us do evil, that good may come"? Their damnation is just!
9 What then? Are we better than they? No, in no wise! For we have before proved that both Jews and Gentiles are all under sin.
10 As it is written: "There is none righteous, no, not one;
11 there is none that understandeth; there is none that seeketh after God.
12 They have all gone from the way; they have together become unprofitable; there is none that doeth good, no, not one."
13 "Their throat is an open sepulcher; with their tongues they have used deceit." "The poison of asps is under their lips,"
14 "whose mouth is full of cursing and bitterness."
15 "Their feet are swift to shed blood;
16 destruction and misery are in their ways,
17 and the way of peace have they not known."
18 "There is no fear of God before their eyes."
19 Now we know that whatsoever things the law saith, it saith to those who are under the law, that every mouth may be stopped and all the world may become guilty before God.
20 Therefore by the deeds of the law, no flesh shall be justified in His sight, for by the law is the knowledge of sin.
21 But now the righteousness of God apart from the law is manifested, being witnessed by the Law and the Prophets,
22 even the righteousness of God, which is by faith of Jesus Christ, unto all and upon all those who believe. For there is no difference,
23 for all have sinned and come short of the glory of God,
24 being justified freely by His grace through the redemption that is in Christ Jesus.
25 Him God hath set forth to be a propitiation through faith in His blood, to declare His righteousness for the remission of sins that are past, through the forbearance of God;
26 to declare, I say, at this time, His righteousness: that He might be just, and the justifier of him that believeth in Jesus.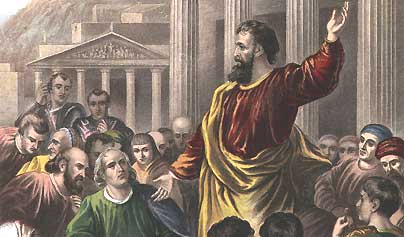 27 Where is boasting then? It is excluded. By what law? Of works? Nay, but by the law of faith.
28 Therefore we conclude that a man is justified by faith apart from the deeds of the law.
29 Is He the God of the Jews only? Is He not also of the Gentiles? Yes, of the Gentiles also,
30 seeing it is one God who shall justify the Circumcision by faith, and Uncircumcision through faith.
31 Do we then make void the law through faith? God forbid! Yea, we establish the law.
Morning Prayer.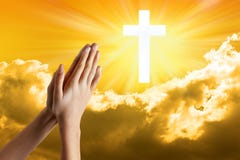 Lord our God, grant that we may be your watchmen, who can understand what you mean for our time. We thank you for all you have already done, for every change to the good among the nations. For the nations must bow to your will so that nothing happens unless accomplished by you. Judge us wherever necessary. Open our eyes to see where we are wrong and where something does not go according to your Spirit. Be with us and give us strength. Raise up more watchmen everywhere, in every place and in every home. Wherever something happens to move people's hearts, let the watchmen proclaim, "This comes from God. It does not matter how much we suffer. This comes from Jesus Christ, who suffered and died, but who rose again." Raise up such watchmen among young and old everywhere on earth, to the glory of your name. Let there be a people who go to meet you with shouts of joy and thanksgiving. In Jesus we pray. Amen.
Daily Lesson.
(10) As it is written:
" There is none righteous, no, not one;
(11) There is none who understands;
There is none who seeks after God.
(12) They have all turned aside;
They have together become unprofitable;
There is none who does good, no, not one."
(13) " Their throat is an open tomb;
With their tongues they have practiced deceit";
" The poison of asps is under their lips";
(14) " Whose mouth is full of cursing and bitterness."
(15) " Their feet are swift to shed blood;
(16) Destruction and misery are in their ways;
(17) And the way of peace they have not known."
(18) " There is no fear of God before their eyes."
Quite an indictment of the nature that drives human society! This helps us to understand that even the struggles between nations are really only small problems grown great. Two major powers locked in a hot war may seem more complex than neighbors arguing over a backyard fence or a family quarrel, but the causes are essentially the same.
Are there problems in our families? If we make an honest search for the cause, we will find that one or both sides are lusting for something and competing for it. Either abuse of authority or an unwillingness to submit—or both—will be present because one or both sides want something and feel this is the only way to get it.
Since we cannot serve two masters, lust drives us to serve ourselves to get what we desire. The spin-offs will be insensitivity, inattention, lack of cooperation, gluttony, alcoholism, quarrels, adultery, and lying. Our children will learn to be disobedient, nervous, selfish, and rowdy.
In II Corinthians 11:3, Paul writes that men's minds have been "corrupted from the simplicity that is in Christ." This means that the massive city, state, national, and global problems are merely individual problems multiplied by the population. Nothing will change on earth until individuals are convinced that the solution to the problems begins with them. They first have to work to change themselves before they can begin to expect the community's problems to disappear.
This principle holds true in marriage. If the cause is the same as in individual family quarrels, the solution is also the same. Love, tolerance, kindness, mercy, patience, forgiving, sharing, cooperating, and helping, all done with and through contact with the true God and the power of His Spirit activated and used by the individual's faith, will do the job.
Blessing.
The Lord bless you and keep you;
The Lord make His face shine upon you,
And be gracious unto you;
The Lord lift up His countenance upon you,
And give you peace.
May God bless you all and 'The Church of the Christian Nation', Amen.
Like most churches, static constructed buildings or  the virtual variety, The CCN functions on donations. If you would like to help the CCN continue with this vital work, please leave your contribution here by clicking on the donate button bellow and bless you for your help with the lord's work in this place.