Good sabbath, Shabbat Shalom. By Pastor Don. Roy Hemingway.
Gooooooooooooooooooooooooooooood Sabbath brethren, Shabbat shalom and may the lord God of hosts be with us all this shabat, as we join together in praise and worship, here at 'The Chrush of the the Christian nation', before the throne of the living God of Moses, Jacob and Isaac, in the sacred name of Christ Jesus, the Saviour, His name be praised. Amen.
Bible Reading.
John 8. 
21st Century King James Version (KJ21)
1 Jesus went unto the Mount of Olives.
2 And early in the morning He came again into the temple, and all the people came unto Him; and He sat down and taught them.
3 And the scribes and Pharisees brought unto Him a woman taken in adultery. And when they had set her in the midst,
4 they said unto Him, "Master, this woman was taken in adultery, in the very act.
5 Now Moses in the law commanded us that such should be stoned but what sayest thou?"
6 This they said testing Him, that they might have cause to accuse Him. But Jesus stooped down and with His finger wrote on the ground, as though He heard them not.
7 So when they continued asking Him, He lifted Himself up and said unto them, "He that is without sin among you, let him first cast a stone at her."
8 And again He stooped down and wrote on the ground.
9 And they who heard it, being convicted by their own conscience, went out one by one, beginning with the eldest even unto the last, and Jesus was left alone with the woman standing in the midst.
10 When Jesus had lifted Himself up and saw none but the woman, He said unto her, "Woman, where are those thine accusers? Hath no man condemned thee?"
11 She said, "No man, Lord." And Jesus said unto her, "Neither do I condemn thee; go, and sin no more."
12 Then spoke Jesus again unto them, saying, "I am the Light of the world. He that followeth Me shall not walk in darkness, but shall have the light of life."
13 The Pharisees therefore said unto Him, "Thou bearest record of thyself; thy record is not true."
14 Jesus answered and said unto them, "Though I bear record of Myself, yet My record is true, for I know whence I came and whither I go; but ye cannot tell whence I come and whither I go.
15 Ye judge according to the flesh; I judge no man.
16 And yet if I judge, My judgment is true; for I am not alone, but I and the Father that sent Me.
17 It is also written in your law that the testimony of two men is true.
18 I am One that bear witness of Myself, and the Father that sent Me beareth witness of Me."
19 Then they said unto Him, "Where is thy father?" Jesus answered, "Ye neither know Me, nor My Father. If ye had known Me, ye should have known My Father also."
20 These words spoke Jesus in the treasury as He taught in the temple, and no man laid hands on Him, for His hour was not yet come.
21 Then Jesus said again unto them, "I go My way, and ye shall seek Me, and shall die in your sins. Whither I go, ye cannot come."
22 Then said the Jews, "Will he kill himself, because he saith, 'Whither I go ye cannot come'?"
23 And He said unto them, "Ye are from beneath; I am from above. Ye are of this world; I am not of this world.
24 I said therefore unto you that ye shall die in your sins; for if ye believe not that I am He, ye shall die in your sins."
25 Then they said unto Him, "Who art thou?" And Jesus said unto them, "Even the same that I said unto you from the beginning.
26 I have many things to say and to judge of you, but He that sent Me is true; and I speak to the world those things which I have heard of Him."
27 They understood not that He spoke to them of the Father.
28 Then said Jesus unto them, "When ye have lifted up the Son of Man, then shall ye know that I am He, and that I do nothing of Myself; but as My Father hath taught Me, I speak these things.
29 And He that sent Me is with Me. The Father hath not left Me alone, for I do always those things that please Him."
30 As He spoke those words, many believed in Him.
31 Then said Jesus to those Jews who believed in Him, "If ye continue in My Word, then are ye My disciples indeed.
32 And ye shall know the truth, and the truth shall make you free."
33 They answered Him, "We are Abraham's seed, and were never in bondage to any man. How sayest thou, 'Ye shall be made free'?"
34 Jesus answered them, "Verily, verily I say unto you, whosoever committeth sin is the servant of sin.
35 And the servant abideth not in the house for ever, but the Son abideth ever.
36 If the Son therefore shall make you free, ye shall be free indeed.
37 I know that ye are Abraham's seed, but ye seek to kill Me, because My Word hath no place in you.
38 I speak that which I have seen with My Father, and ye do that which ye have seen with your father."
39 They answered and said unto Him, "Abraham is our father." Jesus said unto them, "If ye were Abraham's children, ye would do the works of Abraham.
40 But now ye seek to kill Me, a Man that hath told you the truth, which I have heard from God: this did not Abraham.
41 Ye do the deeds of your father." Then they said to Him, "We are not born of fornication; we have one Father, even God."
42 Jesus said unto them, "If God were your Father, ye would love Me, for I proceeded forth and came from God; neither came I of Myself, but He sent Me.
43 Why do ye not understand My speech? Even because ye cannot hear My Word!
44 Ye are of your father the devil, and the lusts of your father ye will do. He was a murderer from the beginning, and abode not in the truth, because there is no truth in him. When he speaketh a lie, he speaketh of his own, for he is a liar and the father of it.
45 And because I tell you the truth, ye believe Me not.
46 Which of you convicteth Me of sin? And if I say the truth, why do ye not believe Me?
47 He that is of God heareth God's words; ye therefore hear them not, because ye are not of God."
48 Then the Jews answered and said unto Him, "Say we not well that thou art a Samaritan and hast a devil?"
49 Jesus answered, "I have not a devil, but I honor My Father, and ye do dishonor Me.
50 And I seek not Mine own glory; there is One that seeketh and judgeth.
51 Verily, verily I say unto you, if a man keep My saying, he shall never see death."
52 Then said the Jews unto Him, "Now we know that thou hast a devil! Abraham is dead and the prophets; and thou sayest, 'If a man keep my saying he shall never taste of death.'
53 Art thou greater than our father Abraham, who is dead? And the prophets are dead. Whom makest thou thyself?"
54 Jesus answered, "If I honor Myself, My honor is nothing. It is My Father that honoreth Me, of whom ye say that He is your God.
55 Yet ye have not known Him, but I know Him. And if I should say, 'I know Him not,' I shall be a liar like unto you. But I know Him and keep His saying.
56 Your father Abraham rejoiced to see My day; and He saw it and was glad."
57 Then said the Jews unto Him, "Thou art not yet fifty years old, and hast thou seen Abraham?"
58 Jesus said unto them, "Verily, verily I say unto you, before Abraham was, I am!"
59 Then they took up stones to cast at Him; but Jesus hid Himself, and went out of the temple, going through the midst of them, and so passed by.
Morning Prayer.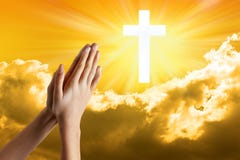 Heavenly Father, thank you for granting to us every spiritual blessing in Christ Jesus. we here, who are gathered in your name, claim the riches in Christ Jesus over our lives today, over home, family, work, over all of our kingdom and domain. We bring the blood of Christ once more over our human spirit, soul, and body, over heart, mind, and will. we put on the full armour of the one true living God: the belt of truth, breastplate of righteousness, shoes of the gospel, helmet of salvation; we take up the shield of faith and sword of the Spirit, and we choose to be strong in the Lord and in the strength of your might, to pray at all times in the Spirit and serving you in faith and devotion, now and through all eternity. In the name of Jesus the Saviour we pray. Amen.
Daily Lesson.
(10) When Jesus had raised Himself up and saw no one but the woman, He said to her, "Woman, where are those accusers of yours? Has no one condemned you?" (11) She said, "No one, Lord." And Jesus said to her, "Neither do I condemn you; go and sin no more."
Consider that this woman caught in adultery is indeed an obviously sinful woman; she had a reputation as a loose woman. The Pharisees had caught her in the very act of cheating on her husband, and that was probably only one of her many sins. We would likely not be wrong in calling her a wicked woman.
In every way opposite to her is Jesus Christ, sinless and perfect. The Pharisees, themselves sinful, attempt to force Him, a Man of unimpeachable character, to condemn a sinner—to them, a foregone conclusion: "And when they had set her in the midst, they said to Him, "Teacher, this woman was caught in adultery, in the very act. Now Moses, in the law, commanded us that such should be stoned. But what do You say?" (John 8:3-5). However, Jesus' approach to the situation is poles apart; His reaction and attitude throughout this vignette is completely contrary to that of the Pharisees.
In their reading of the Old Testament law concerning the punishment for adultery (Leviticus 20:10-11; Deuteronomy 22:22), this was an open-and-shut case: The woman had been caught in the act, they had two or three witnesses, the law was clear, so there should be a stoning! This appears to be unequivocal. The law does indeed proscribe the death sentence by stoning. What more proof does Jesus need?
Despite everything weighing against the woman, Jesus approaches the matter differently. He clearly understands that the woman had sinned. He realizes there were witnesses to that effect. He knows the law and the penalty, but He does not leap to a verdict of condemnation.
Recall that, for some time, He does nothing but write on the ground (John 8:6). He lets the matter simmer. While the carnal Pharisees agitate for answers and demand action, Jesus patiently waits. God works with us in the same way. We can become infuriated when God fails to answer us immediately after we say, "Amen," but giving us time for things to work out is a consistent pattern with Him. We can be certain that He does this when we are accused before Him, even when we are guilty as charged, as the remainder of the passage in John 8 shows.
Because we are so familiar with the character of Jesus, we can appreciate how shocking His statement in John 8:11 is: "Neither do I condemn you; go and sin no more." One would expect a just God to say, "This is the law. This is your infraction, so this is your punishment." But we understand that God is love and that He is gracious and merciful, so when He does not say, "I condemn you to be stoned," we tend to pass over it without thinking.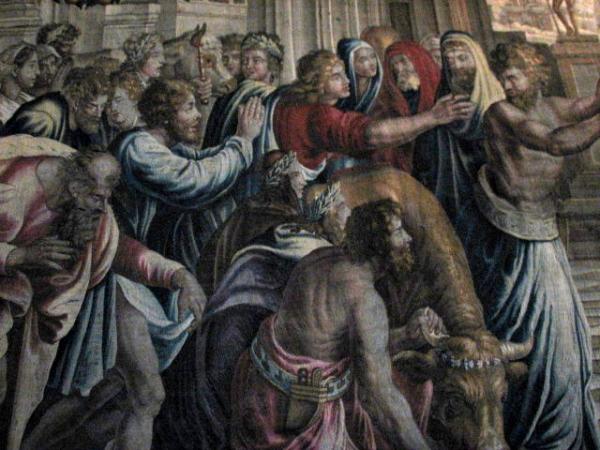 However, first-century Jews would have been astounded to hear such a thing! They may have been the most judgmental people who have ever lived on the face of the earth. One little infraction of the law was enough to condemn a person. Excommunication was so common a practice that people stood in great fear of the Pharisees (see John 9:22). What Jesus says was a radical concept, one that contradicted everything they had been taught.
Moreover, Jesus had every right—as God in the flesh, to whom the Father had committed all judgment (John 5:22)—to condemn her to death, but He shows mercy. He does not react in anger to reinforce how bad her sin was. He does not even preach at her. He simply commands her not to sin like this anymore, and He lets her go to work it out for herself.
However, He does not pass up an opportunity to teach the crowd: "Then Jesus spoke to them again, saying, "I am the light of the world. He who follows Me shall not walk in darkness, but have the light of life" (John 8:12). He teaches that He, being that Light, has given us an example to follow in situations like this. A sinner condemned to die produces nothing. Only with further life and light will he or she have the chance to repent and grow in character.
That is how God works with us, and are we not happy that He reacts to our sins with patience and mercy? So we should forbear with our brethren (Colossians 3:12-13).
May God bless you all and 'The Church of the Christian Nation', Amen.
Like most churches, static constructed buildings or  the virtual variety, The CCN functions on donations. If you would like to help the CCN continue with this vital work, please leave your contribution here by clicking on the donate button bellow and bless you for your help with the lord's work in this place.