The CCN Daily Worship by Pastor Don. Roy Hemingway.
Gooooooooooooooooooooood morning brethren, May the Almighty God of hosts be with you this morning and thank you, for joining us here at 'The Church of the Christian Nation' for worship and praise. Let us begin as is our tradition every day here at the Nation, by reading from the word of God. Amen.
Bible Reading.
Galatians 4. 
21st Century King James Version (KJ21)
1 Now I say that the heir, as long as he is a child, differeth in nothing from a servant, though he be lord of all.
2 But he is under tutors and governors until the time appointed by the father.
3 Even so we, when we were children, were in bondage under the elements of the world.
4 But when the fullness of the time had come, God sent forth His Son, made of a woman, made under the law,
5 to redeem those who were under the law, that we might receive the adoption of sons.
6 And because ye are sons, God hath sent forth the Spirit of His Son into your hearts, crying, "Abba, Father."
7 Therefore thou art no more a servant but a son, and if a son, then an heir of God through Christ.
8 However that be, then when ye knew not God, ye did service unto those which by nature are not gods.
9 But now after ye have known God, or rather are known by God, how turn ye again to the weak and beggarly elements unto which ye desire again to be in bondage?
10 Ye observe days and months and times and years.
11 I am afraid for you, lest I have bestowed upon you labor in vain.
12 Brethren, I beseech you, be as I am, for I am as ye are. Ye have not injured me at all.
13 Ye know how through infirmity of the flesh I preached the Gospel unto you at the first.
14 And my temptation which was in my flesh ye despised not, nor rejected, but received me as an angel of God, even as Christ Jesus.
15 Where is then the blessedness ye spoke of? For I bear you record that, if it had been possible, ye would have plucked out your own eyes and have given them to me.
16 Have I therefore become your enemy because I tell you the truth?
17 They zealously seek after you, but for no good; yea, they would exclude you, that ye might seek after them.
18 But it is good to be zealously sought after, always in a good thing, and not only when I am present with you.
19 My little children, over whom I travail in birth again until Christ be formed in you,
20 I desire to be present with you now and to change my tone; for I stand in doubt of you.
21 Tell me, ye who desire to be under the law, do ye not hear the law?
22 For it is written that Abraham had two sons, the one by a bondmaid, the other by a freewoman.
23 But he who was of the bondwoman was born according to the flesh, but he of the freewoman was by promise.
24 These things are an allegory, for these are the two covenants: The one is from Mount Sinai, which engendereth bondage; this is Hagar.
25 For this Hagar is Mount Sinai in Arabia and answereth to Jerusalem as it is now, and is in bondage with her children.
26 But the Jerusalem which is above is free, and is the mother of us all.
27 For it is written: "Rejoice, thou barren that bearest not; break forth and cry, thou that travailest not; for the desolate hath many more children than she who hath a husband."
28 Now we, brethren, as Isaac was, are the children of promise.
29 But as then, he that was born according to the flesh persecuted him that was born according to the Spirit, even so it is now.
30 Nevertheless what saith the Scripture? "Cast out the bondwoman and her son, for the son of the bondwoman shall not be heir with the son of the freewoman."
31 So then, brethren, we are not children of the bondwoman, but of the free.
Morning Prayer.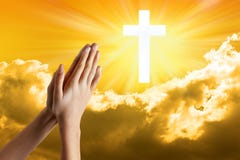 Lord our God, we thank you for the trust you have put into our hearts. We thank you for all the signs of your goodness that comfort us when we are in great need and when many deaths take place around us and touch each of us. We thank you for comforting us, for always giving us fresh courage wherever we may be, and for giving us hope for other people, who also struggle hard to find what is good. O Lord God, bless our world with power from on high, with your gifts that bring good to many people. Bless our world. Save it from sin, from ruin, from every kind of despair. Give your blessing, O Lord our God! As you bless us, so bless all the world and grant that all may come to know the name of Jesus Christ your Son, to the glory of your name. In Jesus we pray. Amen.
Daily Lesson.
(7) Therefore you are no longer a slave but a son, and if a son, then an heir of God through Christ.
Paul here gives a conclusion to verses 1-6. Before God's calling, we were servants—slaves—to sin and Satan (Romans 3:9; 5:12; 6:1-23; Ephesians 2:1-3). This present system of things, under Satan, was our "tutor" and "governor," not for instruction or safe-keeping but for keeping us controlled and limited. When we were spiritually immature—"children"— we were in bondage to the foundational principles and elements of this world.
At the time when God chooses, He calls us out from this cosmos, this world apart from Him. This is possible because Jesus Christ's atoning sacrifice bridges the gap, caused by sin, between God and the man that He chooses and causes to approach Him (Psalm 65:4). Christ became the "curse of the law," the penalty of death, for us and redeemed us from Satan and from sin's grasp so that we could begin to have a relationship with our Creator. Through the legal action of justification, God brings us into alignment with His holy law and takes away our sins and the eternal consequence of them—but He does not take away the law anymore than a civil governor does away with the law against murder when he gives a last-minute reprieve to a murderer.
To those individuals who hear and properly respond to God's summons, He gives the opportunity— the right!— to become His sons: "But as many as received Him, to them gave he power [authority] to become the sons of God, even to them that believe on his name" (John 1:12). This is symbolized by adoption, because Paul is emphasizing that prior to this time, we had another father—a supernatural being whose image we bore, whose deeds we followed, and whose words we spoke. It was this father that enslaved us, and it was his system that we all willingly participated in before God's intervention.
It was this system that the Galatians were returning to and which Paul was speaking against (Galatians 4:3, 8-11). Because of the price that Christ paid, God purchased those individuals that He has a plan for, and thus they became His "adopted" sons and heirs—but not yet inheritors—to the promises made to Abraham and to the Kingdom.
Blessing.
The Lord bless you and keep you;
The Lord make His face shine upon you,
And be gracious unto you;
The Lord lift up His countenance upon you,
And give you peace.
May God bless you all and 'The Church of the Christian Nation', Amen.
Like most churches, static constructed buildings or  the virtual variety, The CCN functions on donations. If you would like to help the CCN continue with this vital work, please leave your contribution here by clicking on the donate button bellow and bless you for your help with the lord's work in this place.