The CJCN Daily Worship.
By Pastor Don't Roy Hemingway.
Gooooooooooooooooooooood morning brethren, peace unto you and the grace of our lord Jesus be with you. May the Almighty God of hosts stay ever with you this morning and thank you, for joining us here at 'The Church of Jerusalem and the Christian Nation' for worship and praise. Let us begin as is our tradition every day here at the Nation, by reading from the word of God. Amen…………
The Gospel according to….
Exodus 20. 
21st Century King James Version (KJ21)
1 And God spoke all these words, saying:
2 "I am the Lord thy God, who have brought thee out of the land of Egypt, out of the house of bondage.
3 "Thou shalt have no other gods before Me.
4 "Thou shalt not make unto thee any graven image, or any likeness of anything that is in heaven above, or that is in the earth beneath, or that is in the water under the earth.
5 Thou shalt not bow down thyself to them, nor serve them; for I, the Lord thy God, am a jealous God, visiting the iniquity of the fathers upon the children unto the third and fourth generation of them that hate Me,
6 and showing mercy unto thousands of them that love Me and keep My commandments.
7 "Thou shalt not take the name of the Lord thy God in vain, for the Lord will not hold him guiltless that taketh His name in vain.
8 "Remember the Sabbath day, to keep it holy.
9 Six days shalt thou labor and do all thy work;
10 but the seventh day is the Sabbath of the Lord thy God. In it thou shalt not do any work, thou, nor thy son, nor thy daughter, thy manservant, nor thy maidservant, nor thy cattle, nor thy stranger that is within thy gates.
11 For in six days the Lord made heaven and earth, the sea, and all that in them is, and rested the seventh day. Therefore the Lord blessed the Sabbath day and hallowed it.
12 "Honor thy father and thy mother, that thy days may be long upon the land which the Lord thy God giveth thee.
13 "Thou shalt not kill.
14 "Thou shalt not commit adultery.
15 "Thou shalt not steal.
16 "Thou shalt not bear false witness against thy neighbor.
17 "Thou shalt not covet thy neighbor's house; thou shalt not covet thy neighbor's wife, nor his manservant, nor his maidservant, nor his ox, nor his ass, nor anything that is thy neighbor's."
18 And all the people saw the thunderings and the lightnings, and the noise of the trumpet and the mountain smoking; and when the people saw it, they removed and stood afar off.
19 And they said unto Moses, "Speak thou with us and we will hear; but let not God speak with us, lest we die."
20 And Moses said unto the people, "Fear not; for God has come to test you, and that His fear may be before your faces, that ye sin not."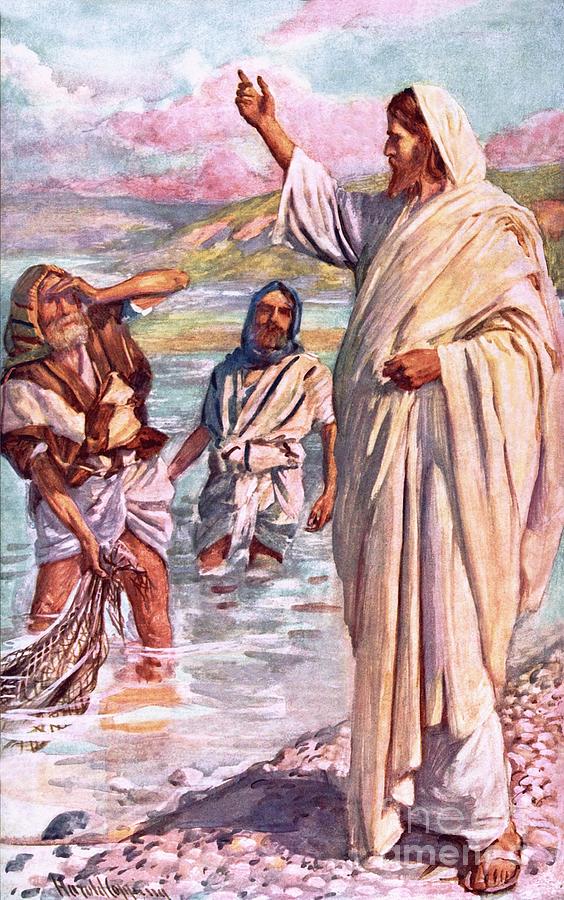 21 And the people stood afar off, and Moses drew near unto the thick darkness where God was.
22 And the Lord said unto Moses, "Thus thou shalt say unto the children of Israel: 'Ye have seen that I have talked with you from heaven.
23 Ye shall not make with Me gods of silver, neither shall ye make unto you gods of gold.
24 An altar of earth thou shalt make unto Me, and shalt sacrifice thereon thy burnt offerings and thy peace offerings, thy sheep and thine oxen. In all places where I record My name I will come unto thee, and I will bless thee.
25 And if thou wilt make Me an altar of stone, thou shalt not build it of hewn stone; for if thou lift up thy tool upon it, thou hast polluted it.
26 Neither shalt thou go up by steps unto Mine altar, that thy nakedness be not uncovered thereon.'
Morning Prayer.
Lord our God, we thank you for your gospel, the great, good tidings we may carry in our hearts to give us joy in this present time, even though on all sides people are in anguish and agony. We thank you that your gospel fills our hearts with compassion, enabling us to help carry what many have to suffer. Show us our need of you so that we can receive your help. If we must be the first to suffer all kinds of pain and distress, may we do so joyfully because we have been promised blessing in the midst of all the pain. May we continually honour your name, praising you for the good news of your kingdom, for the promise that everything must work together for good through Jesus Christ the Savior. Amen.
The Daily Lesson.
Exodus 20:8-11.
(8) "Remember the Sabbath day, to keep it holy. (9) Six days you shall labor and do all your work, (10) but the seventh day is the Sabbath of the LORD your God. In it you shall do no work: you, nor your son, nor your daughter, nor your male servant, nor your female servant, nor your cattle, nor your stranger who is within your gates. (11) For in six days the LORD made the heavens and the earth, the sea, and all that is in them, and rested the seventh day. Therefore the LORD blessed the Sabbath day and hallowed it.
Some ministers assert we have to keep only nine of the Ten Commandments. They teach that we do not have to keep the Sabbath commandment because God made an abrupt change upon the death of Jesus Christ. The Sabbath commandment is merely ceremonial, they say.
If it was merely ceremonial, why is it included in the Ten Commandments that God, with His own voice, spoke from the mount in the presence of all Israel? Why is it included in the Ten Commandments that God, with His own finger, wrote upon tablets of stone? Did He do these things with any lesser laws? Does this mean we are free to declare that one or more of the other commandments is also ceremonial? How about the second?
The Bible gives strong indication that the Sabbath has existed since Genesis 2. Jesus and the apostles clearly kept the Sabbath. Scripture does not indicate that they kept any other day or commanded any other day to be kept. In addition, there are prophecies that mention Israel keeping, not only the weekly Sabbath, but also the holy day Sabbaths in the future.
Even with all of this exemplary evidence, especially our Savior's and the apostles', they tell us that God changed. This is very interesting since there is no scripture saying that the Sabbath is merely ceremonial or that we may keep it according to our own discretion.
Blessing.
The Lord bless you and keep you;
The Lord make His face shine upon you,
And be gracious unto you;
The Lord lift up His countenance upon you,
And give you peace.
Today, we are asking you to donate $50 cents to our church and our worthy causes…………
May God bless you all and 'The Church of the Christian Nation', Amen.
Please look at the DONATIONS page if it be on your heart to make a donation to the lords work in this place. Thank you.