The CJCN Daily Worship.
By Senior Pastor Don Roy Hemingway.
Pastor Don Roy. Gooooooooooooooooooooood Morning brethren, peace unto you and the grace of our lord Jesus be with you. May the Almighty God of hosts stay ever with you this evening and thank you, for joining us here at 'The Church of Jerusalem and the Christian Nation' for worship and praise. Let us begin as is our tradition every day here at the Nation, by reading from the word of God. Amen……
Morning Hymn.
Bible Reading.
Leviticus 22.
King James Version (KJV)
1 And the Lord spake unto Moses, saying,
2 Speak unto Aaron and to his sons, that they separate themselves from the holy things of the children of Israel, and that they profane not my holy name in those things which they hallow unto me: I am the Lord.
3 Say unto them, Whosoever he be of all your seed among your generations, that goeth unto the holy things, which the children of Israel hallow unto the Lord, having his uncleanness upon him, that soul shall be cut off from my presence: I am the Lord.
4 What man soever of the seed of Aaron is a leper, or hath a running issue; he shall not eat of the holy things, until he be clean. And whoso toucheth any thing that is unclean by the dead, or a man whose seed goeth from him;
5 Or whosoever toucheth any creeping thing, whereby he may be made unclean, or a man of whom he may take uncleanness, whatsoever uncleanness he hath;
6 The soul which hath touched any such shall be unclean until even, and shall not eat of the holy things, unless he wash his flesh with water.
7 And when the sun is down, he shall be clean, and shall afterward eat of the holy things; because it is his food.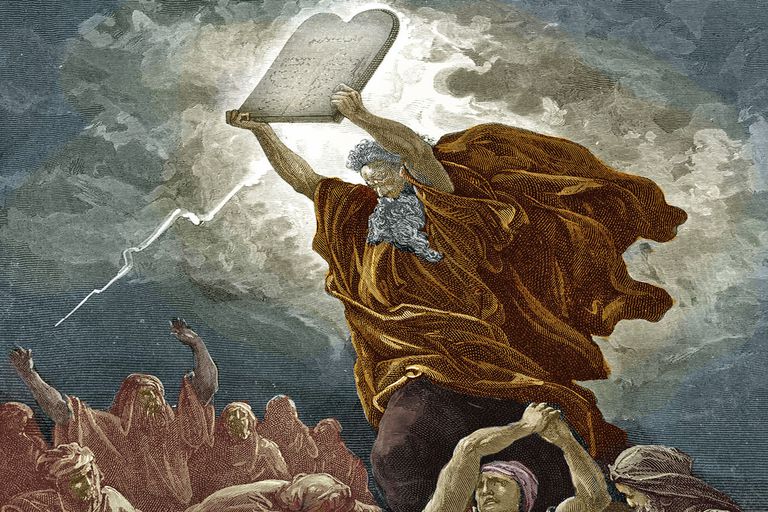 8 That which dieth of itself, or is torn with beasts, he shall not eat to defile himself therewith; I am the Lord.
9 They shall therefore keep mine ordinance, lest they bear sin for it, and die therefore, if they profane it: I the Lord do sanctify them.
10 There shall no stranger eat of the holy thing: a sojourner of the priest, or an hired servant, shall not eat of the holy thing.
11 But if the priest buy any soul with his money, he shall eat of it, and he that is born in his house: they shall eat of his meat.
12 If the priest's daughter also be married unto a stranger, she may not eat of an offering of the holy things.
13 But if the priest's daughter be a widow, or divorced, and have no child, and is returned unto her father's house, as in her youth, she shall eat of her father's meat: but there shall be no stranger eat thereof.
14 And if a man eat of the holy thing unwittingly, then he shall put the fifth part thereof unto it, and shall give it unto the priest with the holy thing.
15 And they shall not profane the holy things of the children of Israel, which they offer unto the Lord;
16 Or suffer them to bear the iniquity of trespass, when they eat their holy things: for I the Lord do sanctify them.
17 And the Lord spake unto Moses, saying,
18 Speak unto Aaron, and to his sons, and unto all the children of Israel, and say unto them, Whatsoever he be of the house of Israel, or of the strangers in Israel, that will offer his oblation for all his vows, and for all his freewill offerings, which they will offer unto the Lord for a burnt offering;
19 Ye shall offer at your own will a male without blemish, of the beeves, of the sheep, or of the goats.
20 But whatsoever hath a blemish, that shall ye not offer: for it shall not be acceptable for you.
21 And whosoever offereth a sacrifice of peace offerings unto the Lord to accomplish his vow, or a freewill offering in beeves or sheep, it shall be perfect to be accepted; there shall be no blemish therein.
22 Blind, or broken, or maimed, or having a wen, or scurvy, or scabbed, ye shall not offer these unto the Lord, nor make an offering by fire of them upon the altar unto the Lord.
23 Either a bullock or a lamb that hath any thing superfluous or lacking in his parts, that mayest thou offer for a freewill offering; but for a vow it shall not be accepted.
24 Ye shall not offer unto the Lord that which is bruised, or crushed, or broken, or cut; neither shall ye make any offering thereof in your land.
25 Neither from a stranger's hand shall ye offer the bread of your God of any of these; because their corruption is in them, and blemishes be in them: they shall not be accepted for you.
26 And the Lord spake unto Moses, saying,
27 When a bullock, or a sheep, or a goat, is brought forth, then it shall be seven days under the dam; and from the eighth day and thenceforth it shall be accepted for an offering made by fire unto the Lord.
28 And whether it be cow, or ewe, ye shall not kill it and her young both in one day.
29 And when ye will offer a sacrifice of thanksgiving unto the Lord, offer it at your own will.
30 On the same day it shall be eaten up; ye shall leave none of it until the morrow: I am the Lord.
31 Therefore shall ye keep my commandments, and do them: I am the Lord.
32 Neither shall ye profane my holy name; but I will be hallowed among the children of Israel: I am the L
ord which hallow you,
33 That brought you out of the land of Egypt, to be your God: I am the Lord.
The CJCN Bible Seminary.
Verse of the Day.
But if we walk in the light as he himself is in the light, then we share together a common life, and we are being cleansed from every sin by the blood of Jesus his Son. 1 John 1:7, NEB.
Daily Prayer.
Dear Father in heaven, we thank you as your children, whom you know how to gather. You have brought us into community with you in a wonderful way, in the midst of a world full of unrest, full of misery, and full of sin. For you know your children and lead them into community with you. You comfort them. You give them strength of faith, and confidence in your rulership and your kingdom, which will prevail over everything evil and deathly that still seems to control humankind. But your dominion reaches far, far beyond. You will keep us in your hands. For the sake of those who trust in you, you will send your grace and your help into the whole world. Amen.
The CJCN Daily Lesson.
(1) Then the LORD spoke to Moses, saying, (2) "Speak to Aaron and his sons, that they separate themselves from the holy things of the children of Israel, and that they do not profane My holy name by what they dedicate to Me: I am the LORD. (3) Say to them: "Whoever of all your descendants throughout your generations, who goes near the holy things which the children of Israel dedicate to the LORD, while he has uncleanness upon him, that person shall be cut off from My presence: I am the LORD. (4) "Whatever man of the descendants of Aaron, who is a leper or has a discharge, shall not eat the holy offerings until he is clean. And whoever touches anything made unclean by a corpse, or a man who has had an emission of semen, (5) or whoever touches any creeping thing by which he would be made unclean, or any person by whom he would become unclean, whatever his uncleanness may be— (6) the person who has touched any such thing shall be unclean until evening, and shall not eat the holy offeringsunless he washes his body with water. (7) And when the sun goes down he shall be clean; and afterward he may eat the holy offerings, because it is his food.
I Peter 1:16 says, ". . . because it is written, 'Be holy, for I am holy,'" which is precisely the lesson contained within Leviticus 22:1-7. Our holy God is clearly saying, "Those who serve Me must also be holy." Holy essentially means "set apart," but it also carries with it the sense of "different," which helps explain why a person or thing is set apart. Certain factors or characteristics distinguish the set-apart one or thing, making it different from persons or things of the same kind.
Holy also has the sense of cleanliness or of being undefiled. God can just as easily be saying to the priests and their children, "I am a clean God, and I want those who serve Me to be clean." In this case, His transcendent purity of intent and character sets Him apart from others or things that people may consider to be god. He is therefore completely undefiled.
The Leviticus passage mentions leprosy, a corpse, and semen. We must not forget that, when this was written, God was addressing a carnal people. Thus, the instruction is couched in physical terms, but we must look for spiritual meaning within the physical instruction.
The Tabernacle, altar, priesthood, furniture, vessels, and all of the rites have spiritual significance, and Paul writes that they are "shadow[s] of good things to come" (Hebrews 10:1). Leprosy is a horrible, dreadful disease, thus it is a type of a spiritual disease. It is externally visible in its disfigurement of its victim's body. At times, there can be running sores. It probably does not parallel any one spiritual disease, but rather it symbolizes any number of sins that disfigure a person's character and/or attitude.
Both a corpse and semen possibly represent carriers of disease. Something causes a person to die, and all too frequently, it is an invisible, internal disease, of which infections and cancers are examples. The widespread AIDS virus is a good example. It can be carried within a man's semen into a woman's body. The carrier may look healthy externally, but a deadly disease is present. Only the carrier may know of its existence within him. A corpse and semen represent sins that are not easily perceived. Withdrawal from participation in the fellowship requires the sinner to exercise discipline, as he may be the only one aware of his problem. Creeping things are also defilements from sins that are less obvious. Perhaps in this case, it might be problems with one's attitudes like resentment, bitterness, envy, jealousy, and lusting.
Regardless of what rendered a person unclean, he was not allowed to participate until he cleaned himself by washing in water, a type of the Holy Spirit. Even then, he was still considered unclean until evening of that same day. This process was a form of excommunication. The unclean person was symbolically excluded from communion with God and held unfit to eat of the holy food of the altar, symbolizing the Word of God, until he had cleaned up his act. Verse 7 distinctly says he was free to eat of the holy things only after the sun went down. Even given this permission, he was still eating in the dark! Though accepted back into fellowship, he was still somewhat removed from full exposure to the light of God's throne until the next day, when complete communication with God was restored.
Taking steps to rid ourselves of uncleanness has awesome ramifications when we grasp how burdened we are with the potential for sin. The apostle Paul labels himself as a wretched man who greatly needed deliverance (Romans 7:24-25). Despite what we can do on our own—and God requires us to strive to do so—complete deliverance can only come through the work of Jesus Christ. It is essential that we know this, yet it is perhaps beyond our full understanding and appreciation that God is so merciful and full of grace to provide the sin offering that precedes us! If it were not for these elements—because we are so full of spiritual creeping things and spiritual leprosy—we would never be permitted to eat from the Lord's table.
I and II Corinthians offers us great comfort by showing that, though one may be cut off from the body, he can return once he has cleaned himself through repentance. It shows that even though he is denied close communion with God because of some spiritual uncleanness, he still remains tied to God through the New Testament priesthood. Disfellowshipping is intended to be a temporary, corrective tool.
I Corinthians 5:4-5 says, "In the name of our Lord Jesus Christ, when you are gathered together, along with my spirit, with the power of our Lord Jesus Christ, deliver such a one to Satan for the destruction of the flesh, that his spirit may be saved in the day of the Lord Jesus." The purpose of excommunication is to save the person from his uncleanness that is destroying his communion with God and others in the fellowship. Therefore, if he can still be saved, that person is not completely cut off from God.
II Corinthians 6:14-17 adds more information to this subject. Paul asks four questions that provide comparisons that clearly urge us to avoid or depart from what is unclean so that we can be at peace and in communion with God. Fellowship with God and being allowed to eat spiritual food from His table are clearly conditioned upon our not falling into uncleanness but instead striving to maintain the purity provided by Christ's sacrifice.
Our part in striving to maintain the purity is to follow Christ's example of thorough dedication in fulfilling the requirements of the burnt and meal offerings. Doing so in no way earns us the fellowshipping privileges expressed in the peace offering, but it does show God our understanding of faith, love, sacrifice, thanksgiving, and the links between total devotion to Him, Jesus Christ, our fellow man, and His wonderful purpose. God has invested a great deal to provide this for us. The least we can do is give back to Him full devotion in our life as a living sacrifice.
Blessing.
Have a great day Brothers and Sisters of the CJCN, The Lord bless you and keep you;
The Lord make His face shine upon you and be gracious unto you; The Lord lift up His countenance upon you, and give you peace. Amen.
Donations to the lord's work in this place.
Like most churches, static constructed buildings or  the virtual variety, The CJCN functions on donations. If you would like to help the CJCN continue with this vital work, please leave your contribution here by clicking on the donate button bellow and bless you for your help with the lord's work in this place.