The CJCN Daily Worship.
By Senior Pastor Don Roy Hemingway.
Gooooooooooooooooooooood Morning brethren, peace unto you and the grace of our lord Jesus be with you. May the Almighty God of hosts stay with you throughout this day and thank you, for joining us here at 'The Church of Jerusalem and the Christian Nation' for worship and praise. Let us begin as is our tradition every day here at the Nation, by reading from the word of God. Amen……
Morning Hymn.
Bible Reading.
John 1.
New International Version (NIV)
The Word Became Flesh
1 In the beginning was the Word, and the Word was with God, and the Word was God. 2 He was with God in the beginning. 3 Through him all things were made; without him nothing was made that has been made.4 In him was life, and that life was the light of all mankind. 5 The light shines in the darkness, and the darkness has not overcomea]">[a] it.
6 There was a man sent from God whose name was John. 7 He came as a witness to testify concerning that light, so that through him all might believe. 8 He himself was not the light; he came only as a witness to the light.
9 The true light that gives light to everyone was coming into the world.10 He was in the world, and though the world was made through him, the world did not recognize him. 11 He came to that which was his own, but his own did not receive him. 12 Yet to all who did receive him, to those who believed in his name, he gave the right to become children of God—13 children born not of natural descent, nor of human decision or a husband's will, but born of God.
14 The Word became flesh and made his dwelling among us. We have seen his glory, the glory of the one and only Son, who came from the Father, full of grace and truth.
15 (John testified concerning him. He cried out, saying, "This is the one I spoke about when I said, 'He who comes after me has surpassed me because he was before me.'") 16 Out of his fullness we have all received grace in place of grace already given. 17 For the law was given through Moses; grace and truth came through Jesus Christ. 18 No one has ever seen God, but the one and only Son, who is himself God andb]">[b] is in closest relationship with the Father, has made him known.
John the Baptist Denies Being the Messiah
19 Now this was John's testimony when the Jewish leadersc]">[c] in Jerusalem sent priests and Levites to ask him who he was. 20 He did not fail to confess, but confessed freely, "I am not the Messiah."
21 They asked him, "Then who are you? Are you Elijah?"
He said, "I am not."
"Are you the Prophet?"
He answered, "No."
22 Finally they said, "Who are you? Give us an answer to take back to those who sent us. What do you say about yourself?"
23 John replied in the words of Isaiah the prophet, "I am the voice of one calling in the wilderness, 'Make straight the way for the Lord.'"d]">[d]
24 Now the Pharisees who had been sent 25 questioned him, "Why then do you baptize if you are not the Messiah, nor Elijah, nor the Prophet?"
26 "I baptize withe]">[e] water," John replied, "but among you stands one you do not know. 27 He is the one who comes after me, the straps of whose sandals I am not worthy to untie."
28 This all happened at Bethany on the other side of the Jordan, where John was baptizing.
John Testifies About Jesus
29 The next day John saw Jesus coming toward him and said, "Look, the Lamb of God, who takes away the sin of the world! 30 This is the one I meant when I said, 'A man who comes after me has surpassed me because he was before me.' 31 I myself did not know him, but the reason I came baptizing with water was that he might be revealed to Israel."
32 Then John gave this testimony: "I saw the Spirit come down from heaven as a dove and remain on him. 33 And I myself did not know him, but the one who sent me to baptize with water told me, 'The man on whom you see the Spirit come down and remain is the one who will baptize with the Holy Spirit.' 34 I have seen and I testify that this is God's Chosen One."f]">[f]
John's Disciples Follow Jesus
35 The next day John was there again with two of his disciples. 36 When he saw Jesus passing by, he said, "Look, the Lamb of God!"
37 When the two disciples heard him say this, they followed Jesus.38 Turning around, Jesus saw them following and asked, "What do you want?"
They said, "Rabbi" (which means "Teacher"), "where are you staying?"
39 "Come," he replied, "and you will see."
So they went and saw where he was staying, and they spent that day with him. It was about four in the afternoon.
40 Andrew, Simon Peter's brother, was one of the two who heard what John had said and who had followed Jesus. 41 The first thing Andrew did was to find his brother Simon and tell him, "We have found the Messiah" (that is, the Christ). 42 And he brought him to Jesus.
Jesus looked at him and said, "You are Simon son of John. You will be called Cephas" (which, when translated, is Peterg]">[g]).
Jesus Calls Philip and Nathanael
43 The next day Jesus decided to leave for Galilee. Finding Philip, he said to him, "Follow me."
44 Philip, like Andrew and Peter, was from the town of Bethsaida. 45 Philip found Nathanael and told him, "We have found the one Moses wrote about in the Law, and about whom the prophets also wrote—Jesus of Nazareth, the son of Joseph."
46 "Nazareth! Can anything good come from there?" Nathanael asked.
"Come and see," said Philip.
47 When Jesus saw Nathanael approaching, he said of him, "Here truly is an Israelite in whom there is no deceit."
48 "How do you know me?" Nathanael asked.
Jesus answered, "I saw you while you were still under the fig tree before Philip called you."
49 Then Nathanael declared, "Rabbi, you are the Son of God; you are the king of Israel."
50 Jesus said, "You believeh]">[h] because I told you I saw you under the fig tree. You will see greater things than that." 51 He then added, "Very truly I tell you,i]">[i] youj]">[j] will see 'heaven open, and the angels of God ascending and descending on'k]">[k] the Son of Man."
The CJCN Bible Seminary.
Verse of the Day.
Then I heard a loud voice in heaven say: "Now have come the salvation and the power and the kingdom of our God, and the authority of his Messiah. For the accuser of our brothers and sisters, who accuses them before our God day and night, has been hurled down. They triumphed over him by the blood of the Lamb and by the word of their testimony; they did not love their lives so much as to shrink from death." Revelation 12:10-11, NIV.
Daily Prayer.
Lord our God, in praise and thanksgiving we look toward your kingdom and the reign of Jesus Christ in your kingdom. We rejoice that you make him Lord not only in heaven but also on earth, where he will gain the victory in all mankind. Men will become good and will love one another, and they will find peace when everything is done according to your will. For the time must come when, on earth as in heaven, your will is done everywhere and in everything. Be with us with your Spirit so that we may stand firm as your children until the moment comes for us to exult: Up out of all grief and trouble! Up from evil and death! Up to you, our Father in heaven! Praise to your name today while we are still groaning. Glory to your kingdom. Glory to Jesus Christ our Savior, whom you have given us. In Jesus' name we pray. Amen.
The CJCN Daily Lesson.
(46) And Nathanael said to him, "Can anything good come out of Nazareth?" Philip said to him, "Come and see." (47) Jesus saw Nathanael coming toward Him, and said of him, "Behold, an Israelite indeed, in whom is no deceit!"
Without deceit means "simple, without subtlety, candid and sincere." Was this a compliment or a mild sarcasm? Jesus may actually have been pleasantly surprised.
All need to pay heed to His comment, in which He is teaching that "a real Israelite is one in whom is no falsehood." Nathanael represented the way a true Israelite should be, a person without deceit, candid and sincere. Jesus seems to be referring to the post-conversion character of the once-deceitful Jacob, the ancestor of the Israelites, whose name God changed to "Israel." Before Jacob's conversion, Isaac had said to Esau, "Your brother came with deceit and has taken away your blessing" (Genesis 27:35), yet afterward, Jacob dealt honestly and fairly with others.
However, lying is such an integral part of the fabric of our lives that we have coined such expressions of mild disbelief as "Is that so?" and "Do you really mean it?" We expect advertisers to exaggerate the quality of their products. We expect politicians to be crooked, to lie, to be evasive, to use their positions to become wealthy, and to make under-the-table deals with contractors or even crime figures. We expect policemen to be "on the take" and businessmen to give little in return for as high a cost as the traffic will bear.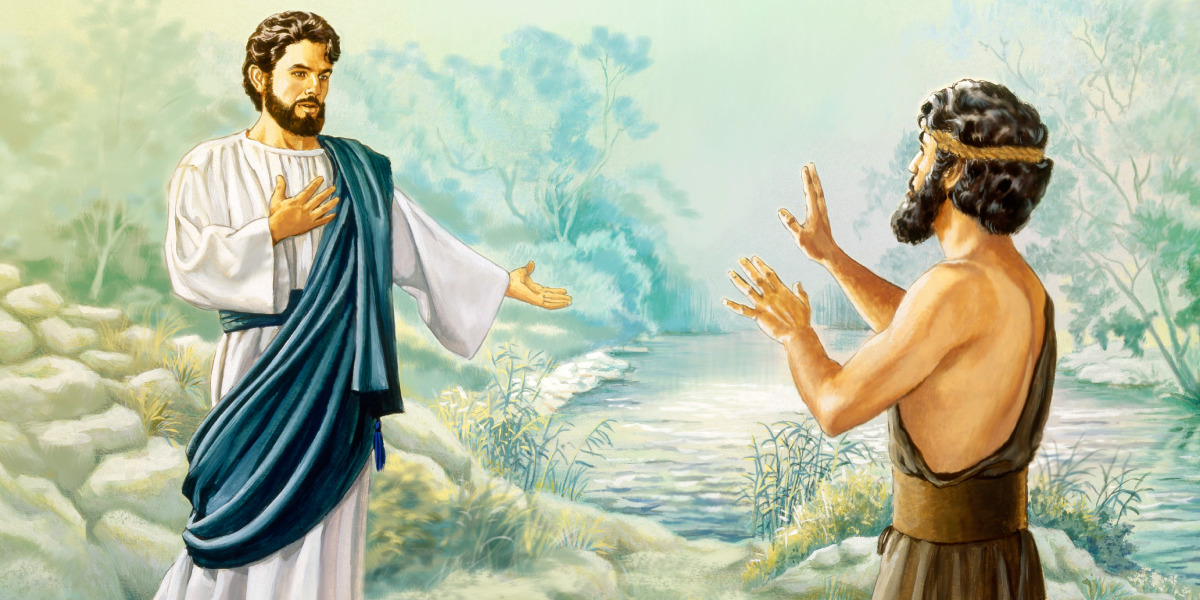 Indeed, the protestors of the 1960s justified the turmoil on the streets because of their disillusionment with the obvious hypocrisies of leaders becoming wealthy on a prolonged, senseless war. During that same general period, Presidents Eisenhower and Johnson were caught openly lying at news conferences. A web of intrigue and lies brought about President Nixon's resignation. Even General Motors misrepresented Oldsmobile cars with Chevy engines!
People in government commonly lie "in the national interest," as the saying goes. Many have testified that Bill and Hillary Clinton spent eight years continuously lying about a wide variety of personal failings, moneymaking deals, and political intrigues they were involved in. The media took the Bush administration to task on its obfuscations regarding the Iraq War.
British Prime Minister Winston Churchill served his nation most critically in wartime, during which artful lying, called disinformation, is a common tactic. He once said, "In wartime, truth is so precious that she should always be attended by a bodyguard of lies." Do we as a people think that no one is listening?
Blessing.
Have a great day Brothers and Sisters of the CJCN, The Lord bless you and keep you;
The Lord make His face shine upon you and be gracious unto you; The Lord lift up His countenance upon you, and give you peace. Amen.
Donations to the lord's work in this place.
Like most churches, static constructed buildings or  the virtual variety, The CJCN functions on donations. If you would like to help the CJCN continue with this vital work, please leave your contribution here by clicking on the donate button bellow and bless you for your help with the lord's work in this place.