The CJCN Daily Worship.
By Senior Pastor Don Roy Hemingway. Th.D.
Gooooooooooooooooooooood Morning brethren, peace unto you and the grace of our lord Jesus be with you. May the Almighty God of hosts stay with you throughout this day and thank you, for joining us here at 'The Church of Jerusalem and the Christian Nation' for worship and praise. Let us begin as is our tradition every day here at the Nation, by reading from the word of God. Amen……
Morning Hymn.
Bible Reading.
Matthew 27.
King James Version (KJV)
1 When the morning was come, all the chief priests and elders of the people took counsel against Jesus to put him to death:
2 And when they had bound him, they led him away, and delivered him to Pontius Pilate the governor.
3 Then Judas, which had betrayed him, when he saw that he was condemned, repented himself, and brought again the thirty pieces of silver to the chief priests and elders,
4 Saying, I have sinned in that I have betrayed the innocent blood. And they said, What is that to us? see thou to that.
5 And he cast down the pieces of silver in the temple, and departed, and went and hanged himself.
6 And the chief priests took the silver pieces, and said, It is not lawful for to put them into the treasury, because it is the price of blood.
7 And they took counsel, and bought with them the potter's field, to bury strangers in.
8 Wherefore that field was called, The field of blood, unto this day.
9 Then was fulfilled that which was spoken by Jeremy the prophet, saying, And they took the thirty pieces of silver, the price of him that was valued, whom they of the children of Israel did value;
10 And gave them for the potter's field, as the Lord appointed me.
11 And Jesus stood before the governor: and the governor asked him, saying, Art thou the King of the Jews? And Jesus said unto him, Thou sayest.
12 And when he was accused of the chief priests and elders, he answered nothing.
13 Then said Pilate unto him, Hearest thou not how many things they witness against thee?
14 And he answered him to never a word; insomuch that the governor marvelled greatly.
15 Now at that feast the governor was wont to release unto the people a prisoner, whom they would.
16 And they had then a notable prisoner, called Barabbas.
17 Therefore when they were gathered together, Pilate said unto them, Whom will ye that I release unto you? Barabbas, or Jesus which is called Christ?
18 For he knew that for envy they had delivered him.
19 When he was set down on the judgment seat, his wife sent unto him, saying, Have thou nothing to do with that just man: for I have suffered many things this day in a dream because of him.
20 But the chief priests and elders persuaded the multitude that they should ask Barabbas, and destroy Jesus.
21 The governor answered and said unto them, Whether of the twain will ye that I release unto you? They said, Barabbas.
22 Pilate saith unto them, What shall I do then with Jesus which is called Christ? They all say unto him, Let him be crucified.
23 And the governor said, Why, what evil hath he done? But they cried out the more, saying, Let him be crucified.
24 When Pilate saw that he could prevail nothing, but that rather a tumult was made, he took water, and washed his hands before the multitude, saying, I am innocent of the blood of this just person: see ye to it.
25 Then answered all the people, and said, His blood be on us, and on our children.
26 Then released he Barabbas unto them: and when he had scourged Jesus, he delivered him to be crucified.
27 Then the soldiers of the governor took Jesus into the common hall, and gathered unto him the whole band of soldiers.
28 And they stripped him, and put on him a scarlet robe.
29 And when they had platted a crown of thorns, they put it upon his head, and a reed in his right hand: and they bowed the knee before him, and mocked him, saying, Hail, King of the Jews!
30 And they spit upon him, and took the reed, and smote him on the head.
31 And after that they had mocked him, they took the robe off from him, and put his own raiment on him, and led him away to crucify him.
32 And as they came out, they found a man of Cyrene, Simon by name: him they compelled to bear his cross.
33 And when they were come unto a place called Golgotha, that is to say, a place of a skull,
34 They gave him vinegar to drink mingled with gall: and when he had tasted thereof, he would not drink.
35 And they crucified him, and parted his garments, casting lots: that it might be fulfilled which was spoken by the prophet, They parted my garments among them, and upon my vesture did they cast lots.
36 And sitting down they watched him there;
37 And set up over his head his accusation written, This Is Jesus The King Of The Jews.
38 Then were there two thieves crucified with him, one on the right hand, and another on the left.
39 And they that passed by reviled him, wagging their heads,
40 And saying, Thou that destroyest the temple, and buildest it in three days, save thyself. If thou be the Son of God, come down from the cross.
41 Likewise also the chief priests mocking him, with the scribes and elders, said,
42 He saved others; himself he cannot save. If he be the King of Israel, let him now come down from the cross, and we will believe him.
43 He trusted in God; let him deliver him now, if he will have him: for he said, I am the Son of God.
44 The thieves also, which were crucified with him, cast the same in his teeth.
45 Now from the sixth hour there was darkness over all the land unto the ninth hour.
46 And about the ninth hour Jesus cried with a loud voice, saying, Eli, Eli, lama sabachthani? that is to say, My God, my God, why hast thou forsaken me?
47 Some of them that stood there, when they heard that, said, This man calleth for Elias.
48 And straightway one of them ran, and took a spunge, and filled it with vinegar, and put it on a reed, and gave him to drink.
49 The rest said, Let be, let us see whether Elias will come to save him.
50 Jesus, when he had cried again with a loud voice, yielded up the ghost.
51 And, behold, the veil of the temple was rent in twain from the top to the bottom; and the earth did quake, and the rocks rent;
52 And the graves were opened; and many bodies of the saints which slept arose,
53 And came out of the graves after his resurrection, and went into the holy city, and appeared unto many.
54 Now when the centurion, and they that were with him, watching Jesus, saw the earthquake, and those things that were done, they feared greatly, saying, Truly this was the Son of God.
55 And many women were there beholding afar off, which followed Jesus from Galilee, ministering unto him:
56 Among which was Mary Magdalene, and Mary the mother of James and Joses, and the mother of Zebedees children.
57 When the even was come, there came a rich man of Arimathaea, named Joseph, who also himself was Jesus' disciple:
58 He went to Pilate, and begged the body of Jesus. Then Pilate commanded the body to be delivered.
59 And when Joseph had taken the body, he wrapped it in a clean linen cloth,
60 And laid it in his own new tomb, which he had hewn out in the rock: and he rolled a great stone to the door of the sepulchre, and departed.
61 And there was Mary Magdalene, and the other Mary, sitting over against the sepulchre.
62 Now the next day, that followed the day of the preparation, the chief priests and Pharisees came together unto Pilate,
63 Saying, Sir, we remember that that deceiver said, while he was yet alive, After three days I will rise again.
64 Command therefore that the sepulchre be made sure until the third day, lest his disciples come by night, and steal him away, and say unto the people, He is risen from the dead: so the last error shall be worse than the first.
65 Pilate said unto them, Ye have a watch: go your way, make it as sure as ye can.
66 So they went, and made the sepulchre sure, sealing the stone, and setting a watch.
The CJCN Bible Seminary.
Verse of the Day.
For the Lord is good; his steadfast love endures for ever, and his faithfulness to all generations. Psalm 100:5, RSV.
Daily Prayer.
Lord God, our Father, we thank you for all the light you give us and for all your loving help in outward things as well. We come into your presence and ask you to give us your light and your constant guidance for the path we must follow. Grant that what is of heaven may be revealed on earth, that we may rejoice in the good and beautiful things you give to all people. Our Father, reveal what is of heaven, and free people from their sin and darkness so that at last they recognize your glory. Strengthen our hope for this goal. Rule and work in the hearts of many people, that through them your glory may be proclaimed to all. In Jesus we pray. Amen.
The CJCN Daily Lesson.
(25) And all the people answered and said, "His blood be on us and on our children."
Either out of a genuine concern for justice or out of a sardonic resistance to the Jews' petty politics, Pontius Pilate wanted to free Christ. Lacking in the end the requisite moral strength, he remanded Christ over to the garrison for crucifixion, but not until he had literally "washed his hands" of the whole affair. Matthew alone tells us that, at this juncture in the proceedings, "All the people answered and said, 'His blood be on us and on our children.'" The phrase "all the people" probably refers to the rabble, instigated by the Temple leaders.
They did nothing other than what God had ordained from the foundation of the world. No more, no less! Furthermore, in the execution of God's plan, both Gentile and Jew had a hand. Notice Acts 4:27-28, which records the words of Peter and John:
For truly against Your Holy Servant Jesus, whom You anointed, both Herod and Pontius Pilate, with the Gentiles and the people of Israel, were gathered together to do whatever Your hand and Your purpose determined before to be done.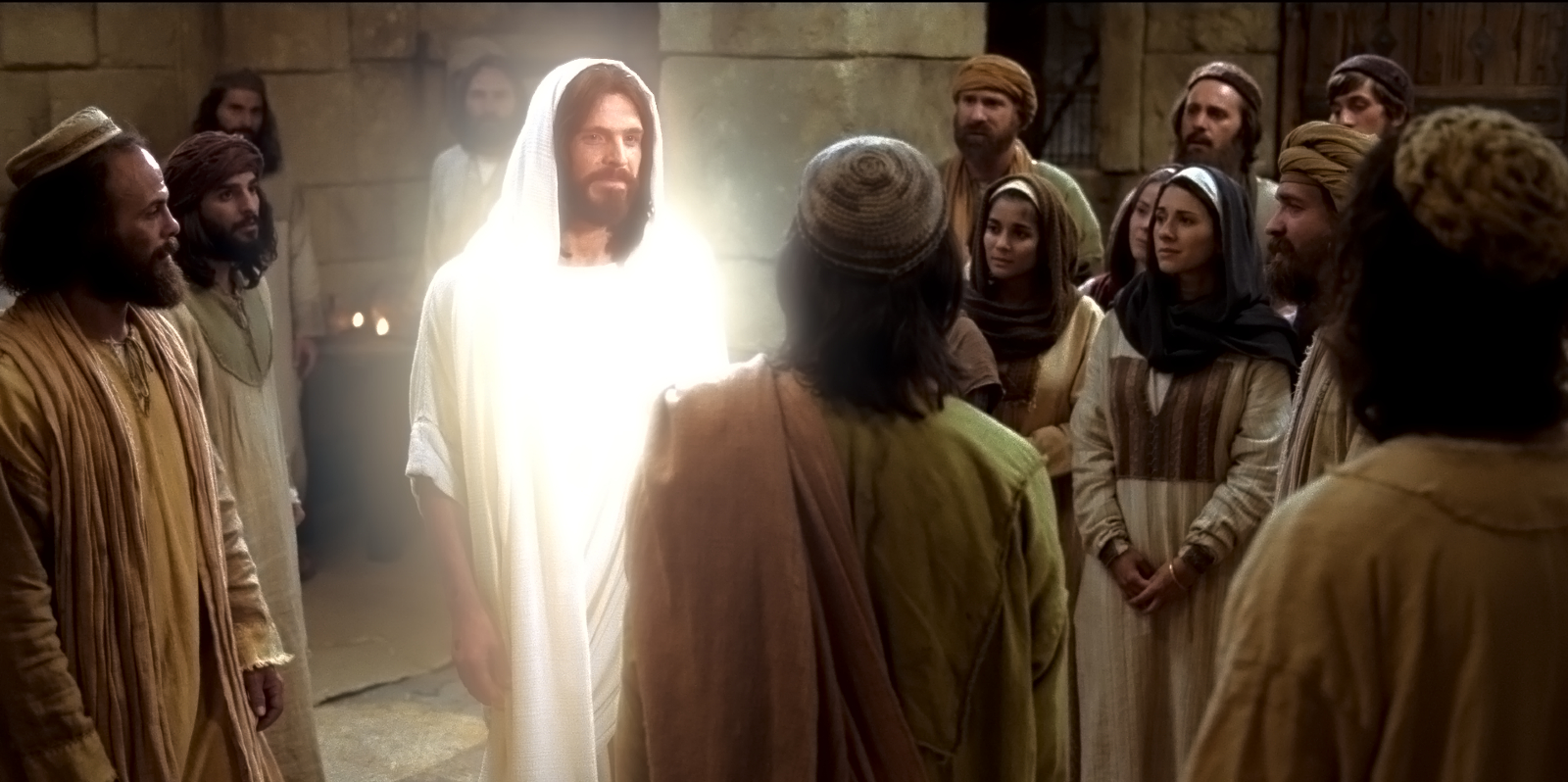 However, not all are given to see the hand of God so clearly as Peter and John saw it. Concerning Matthew 27:25, one former minister of the church of God commented that God would be "remiss" (this is, lax in carrying out His duties) if He did not bring this statement on the Jews' heads. In making that statement, he tacitly expressed his agreement with the "blood libel"—the traditional Catholic and Protestant interpretation of this passage as a self-imposed curse that God has honored over the centuries.
Properly understood, however, the peoples' statement is absolutely not a curse. Moreover, God has nowhere bound Himself to chastise Jewry as a whole for the actions of a relatively few people in Pilate's judgment hall that morning.
The peoples' comment indicates the strength of their conviction that Christ was an enemy of God and the nation. They were thoroughly persuaded that their actions in pursuit of Christ's death were correct. Rather than being a curse, their statement emphasizes theextent of their deception. For, as sincere as they were, they were totally wrong in seeking Christ's death, utterly blind to the reality that He was their hoped-for Messiah. Their comment was a formula: "We know we're right, and we're willing to die for our stance. So sure are we that we're willing to stake our children's lives on our position as well."
In stating their convictions in those terms, they betrayed their lack of understanding of God's law, for they based their statement on the incorrect belief that God punishes children for their parents' sins. The prophet Ezekiel speaks at length of this erroneous idea and of the misleading proverb it had engendered over the years. He quotes the false proverb in Ezekiel 18:2: "The fathers have eaten sour grapes, and the children's teeth are set on edge."
A question the disciples asked of Christ, recorded in John 9:2, indicates that they too were still under the spell of this false proverb. Concerning the blindness of a particular man, they ask, "Rabbi, who sinned, this man or his parents, that he was born blind?" Christ, not accepting the false premise of their question, comes up with a totally different reason: "that the works of God should be revealed in him" (verse 3).
The disciples in John 9—and the Jews in Matthew 27—made their statement at a time when God's prophecy, expressed in Ezekiel 18:3, had not come to pass: "'As I live,' says the Lord GOD, 'you shall no longer use this proverb in Israel.'"
In Christ's day (and to our own!), people still believed that God punished children for the sins of the fathers. Beginning in verse 4 of Ezekiel 18, God sets forth four scenarios to point out the fallacy of this manmade belief. Notice verses 14 and 17, part of the third scenario:
If, however, [a man] begets a son who sees all the sins which his father has done, and considers but does not do likewise, . . . [but rather] has executed My judgments and walked in My statutes-he shall not die for the iniquity of his father; he shall surely live!
God summarizes the teachings of these four scenarios in verse 20:
The soul who sins shall die. The son shall not bear the guilt of the father, nor the father bear the guilt of the son. The righteousness of the righteous shall be upon himself, and the wickedness of the wicked shall be upon himself.
In saying this, God is telling us that He Himself follows the law He established for us, recorded in Deuteronomy 24:16: "The fathers shall not be put to death for their children, nor shall the children be put to death for their fathers; a person shall be put to death for his own sin."
Amaziah obeyed this law when "he executed his servants who had murdered his father the king. However he did not execute their children. . . ." The writer of Chronicles then continues by quoting Deuteronomy 24:16 verbatim (see II Chronicles 25:3-4). Though Exodus 20:5; 34:7; Numbers 14:18; Deuteronomy 5:9; Isaiah 14:21; and Jeremiah 32:18 seem to contradict this principle, these verses speak, not of God's judgment for sin, which is always on the perpetrator himself, but of the disastrous consequences of the fathers' sins affecting "the children to the third and fourth generation of those who hate Me."
Nowhere does Matthew—or anyone else—ever tell us that God acquiesced to carry out vengeance on those who cried, "Crucify Him!" before Pilate's judgment hall. Nowhere does Matthew intimate that God consented to punish their children over the centuries. If He had committed Himself to carry out these peoples' so-called "curse," He would have knowingly bound Himself to violate His own law for centuries.
Blessing.
Have a great day Brothers and Sisters of the CJCN, The Lord bless you and keep you;
The Lord make His face shine upon you and be gracious unto you; The Lord lift up His countenance upon you, and give you peace. Amen.
Donations to the lord's work in this place.
Like most churches, static constructed buildings or  the virtual variety, The CJCN functions on donations. If you would like to help the CJCN continue with this vital work, please leave your contribution here by clicking on the donate button bellow and bless you for your help with the lord's work in this place.