The CJCN Daily Worship.
By Senior Pastor Don Roy Hemingway. Th.D.
Gooooooooooooooooooooood Morning brethren, peace unto you and the grace of our lord Jesus be with you. May the Almighty God of hosts stay with you throughout this day and thank you, for joining us here at 'The Church of Jerusalem and the Christian Nation' for worship and praise. Let us begin as is our tradition every day here at the Nation, by reading from the word of God. Amen……
Morning Hymn.
Bible Reading.
Revelation 11
King James Version (KJV)
1 And there was given me a reed like unto a rod: and the angel stood, saying, Rise, and measure the temple of God, and the altar, and them that worship therein.
2 But the court which is without the temple leave out, and measure it not; for it is given unto the Gentiles: and the holy city shall they tread under foot forty and two months.
3 And I will give power unto my two witnesses, and they shall prophesy a thousand two hundred and threescore days, clothed in sackcloth.
4 These are the two olive trees, and the two candlesticks standing before the God of the earth.
5 And if any man will hurt them, fire proceedeth out of their mouth, and devoureth their enemies: and if any man will hurt them, he must in this manner be killed.
6 These have power to shut heaven, that it rain not in the days of their prophecy: and have power over waters to turn them to blood, and to smite the earth with all plagues, as often as they will.
7 And when they shall have finished their testimony, the beast that ascendeth out of the bottomless pit shall make war against them, and shall overcome them, and kill them.
8 And their dead bodies shall lie in the street of the great city, which spiritually is called Sodom and Egypt, where also our Lord was crucified.
9 And they of the people and kindreds and tongues and nations shall see their dead bodies three days and an half, and shall not suffer their dead bodies to be put in graves.
10 And they that dwell upon the earth shall rejoice over them, and make merry, and shall send gifts one to another; because these two prophets tormented them that dwelt on the earth.
11 And after three days and an half the spirit of life from God entered into them, and they stood upon their feet; and great fear fell upon them which saw them.
12 And they heard a great voice from heaven saying unto them, Come up hither. And they ascended up to heaven in a cloud; and their enemies beheld them.
13 And the same hour was there a great earthquake, and the tenth part of the city fell, and in the earthquake were slain of men seven thousand: and the remnant were affrighted, and gave glory to the God of heaven.
14 The second woe is past; and, behold, the third woe cometh quickly.
15 And the seventh angel sounded; and there were great voices in heaven, saying, The kingdoms of this world are become the kingdoms of our Lord, and of his Christ; and he shall reign for ever and ever.
16 And the four and twenty elders, which sat before God on their seats, fell upon their faces, and worshipped God,
17 Saying, We give thee thanks, O Lord God Almighty, which art, and wast, and art to come; because thou hast taken to thee thy great power, and hast reigned.
18 And the nations were angry, and thy wrath is come, and the time of the dead, that they should be judged, and that thou shouldest give reward unto thy servants the prophets, and to the saints, and them that fear thy name, small and great; and shouldest destroy them which destroy the earth.
19 And the temple of God was opened in heaven, and there was seen in his temple the ark of his testament: and there were lightnings, and voices, and thunderings, and an earthquake, and great hail.
The CJCN Bible Seminary.
Verse of the Day.
How good it is to give thanks to you, O Lord, to sing in your honor, O Most High God, to proclaim your constant love every morning, and your faithfulness every night. Psalm 92:1-2, TEV.
Daily Prayer.
We thank you, Lord our God. How much good you have poured out on us throughout our lives! And how much we should thank you every day! We thank you that again and again we feel your help and know that you can fill our earthly life with what is of heaven. May your kingdom come over the whole world, for all people are longing for faith and for mercy and are to be gathered into your house under the staff of the Good Shepherd, Jesus Christ. Watch over us during the night. May your help go far and wide into the whole world. Stand by those who call upon you, even when they do not understand how they should pray. Help us and grant that the Savior may come, to the glory of your name. In Jesus' name we pray, Amen.
The CJCN Daily Lesson.
Revelation 11:3.
(3) And I will give power to my two witnesses, and they will prophesy one thousand two hundred and sixty days, clothed in sackcloth."
The angel is obviously speaking for God—they are not the angel's witnesses but God's! We should note the use of the English possessive "My," which suggests both personal ownership and affiliation.
However, the Greek reads more literally, ". . . the two witnesses of me." While this rendering also imparts the idea of possession, it adds a vital element: that the Two Witnesses testify about God Himself. They are God's direct representatives in the crucial last years of man's civilization. And they represent Him, not just in words, but in everything they do during their prophetic ministry.
In other words, these two men are not run-of-the-mill Christians by any means! Not a single word of censure is aimed at them in either Revelation 11 or Zechariah 4. They will be model Christians, followers of Christ and His righteousness to such a degree that when the people of this world observe them, they will see human reproductions of the life of Christ. In much the same way as Jesus represented the Father during His physical life, so will the witnesses represent Jesus during the Great Tribulation and the Day of the Lord (see John 14:9). While they will not be perfect, they will be men of godly character and virtue.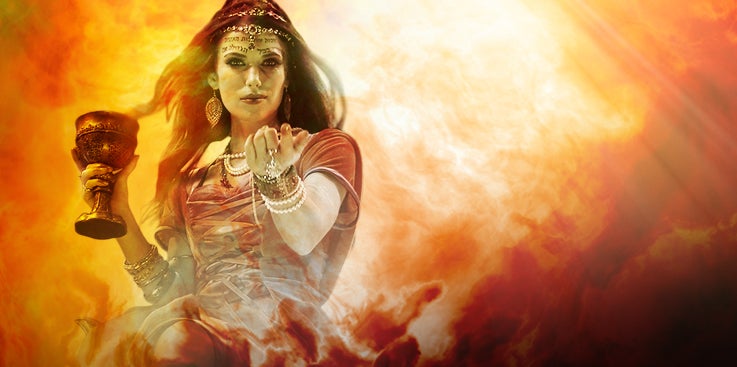 It is no wonder, then, that they attract the wrath of Satan and the Beast, as well as the hatred of the whole world! Just as Jesus was opposed, mocked, persecuted, and finally killed, so will these men draw the fire of the anti-Christ, end-time population of earth. Thus, Christ endues His two prophets with power to preach, to plague, and to defend themselves against harm (Revelation 11:5). In order to survive their mission during a time of Noachian-type violence, God will give them the tools and protection to reveal Him for a final time as a witness before Christ intervenes in world affairs.
Therefore, we should not be looking necessarily for great signs and wonders being done by two prophets, as that activity will likely be confined to the final three and a half years. By that point, it will be obvious to the enlightened who they are. As Revelation 11:9-10 suggests, by the time they are finished with their work, the whole world will know who they are.
Instead, at this time we need to be looking for Christ-like servants who are fulfilling the type of the two olive trees—feeding the churches through their Holy Spirit-inspired works—and who are focused on "measur[ing] the temple of God, the altar, and those who worship there" (Revelation 11:1). They will be intensely laboring to achieve the equipping of the saints (Ephesians 4:12) for the terrifying days to come and the return of Christ.
Who the Two Witnesses are has not yet been revealed, and how long we have to go before the time of their appearance no one knows. However, in looking for them, we need to concentrate on what Scripture reveals so that we might properly identify them. Ecclesiastes 3:11 in the Moffatt version declares how God works in these matters: "He assigned each [thing] to its proper time, but for the mind of man he has appointed mystery, that man may never fathom God's own purpose from beginning to end." God will make them known when their time has come. So, wait and watch!
Blessing.
Have a great day Brothers and Sisters of the CJCN, The Lord bless you and keep you;
The Lord make His face shine upon you and be gracious unto you; The Lord lift up His countenance upon you, and give you peace. Amen.
Donations to the lord's work in this place.
Like most churches, static constructed buildings or  the virtual variety, The CJCN functions on donations. If you would like to help the CJCN continue with this vital work, please leave your contribution here by clicking on the donate button bellow and bless you for your help with the lord's work in this place.